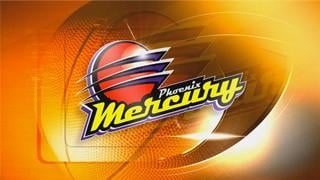 © cbs 5
PHOENIX (AP) -
Diana Taurasi scored 23 points, including a 17-footer to break a 65-65 tie with 1:42 left, and the Phoenix Mercury held off the Tulsa Shock 70-67 Friday night in the debut of interim coach Russ Pennell.
Candice Dupree scored eight of her 20 points in the fourth quarter and added nine rebounds as Phoenix opened up a nine-point lead. But Liz Cambage sparked a 9-0 run to get Tulsa even with 1:57 remaining.
Taurasi and Lynetta Kizer made baskets while Tulsa failed to score on back-to-back possessions. Nicole Powell hit a baseline jumper with 31 seconds left to pull the Shock within 69-67. Taurasi missed a baseline floater and Tulsa got the ball with 9 seconds left. Rookie Skylar Diggins missed a driving layup in traffic in the dying seconds.
Copyright 2013 CBS 5 (Meredith Corporation). All rights reserved.