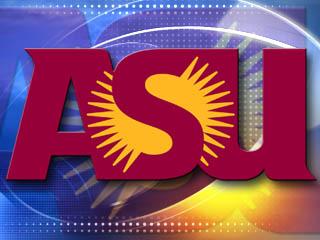 ? cbs 5
PHOENIX (CBS5) -
Battling 21 mile per hour winds at Hillenbrand Stadium, Arizona State softball (43-9, 14-7 Pac-12) rallied back for a 7-6 win in the weekend finale at Arizona (30-23, 7-14 Pac-12).
The Wildcats started the game off scoring three runs in the bottom of the first. Arizona State followed with three in the top of the third to tie it, 3-3, but UA was quick to get the lead back in the bottom of the third, 6-3, once again on another three-run frame. The clincher game for ASU in the top of the seventh, scoring four runs in what would ultimately be the game decider, 7-6.
ASU's starting pitcher Dallas Escobedo left in the bottom of the third after 2.2 innings pitched and one strikeout. Mackenzie Popescue made her second appearance of the weekend in relief, holding UA to two hits down the stretch for her 18th win of the year (18-5). Arizona's Shelby Babcock falls to 16-10 with the loss.
UP NEXT
Softball will host the final regular-season series against Oregon, May 9-11. Thursday's game is at 7 p.m. PT. Friday and Saturday's games are at 5 p.m. PT and both will be aired on the Pac-12 Network. Oregon clenched the 2013 Pac-12 Title on Sunday with a sweep over Oregon State.
NOTES
When there are two outs on the board, ASU has hit in 116 RBI to opponents 45. In the weekend series, ASU allowed UA to score 11 runs on two outs (four on Sunday), ASU scored nine runs on two outs.
Copyright 2013 CBS 5 (Meredith Corporation). All rights reserved.