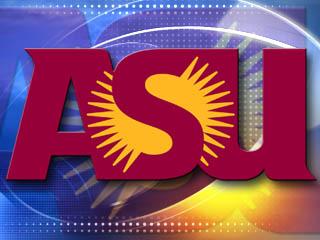 ? cbs 5
PHOENIX (CBS5) -
Arizona State softball won its first home series against California since the 2002 season with an explosive 11-0 routing in five innings on Saturday. Three home runs in the outing provided for eight of the night's runs.
The Sun Devils (41-7, 12-5 Pac-12) and California (35-11, 9-8 Pac-12) will close the series at 3 p.m. PT Sunday on the Pac-12 Network.
Mackenzie Popescue picked up the shutout win after retiring three batters in five innings in a shortened 11-0 victory for the series edge against 10th-ranked California. Nikki Owens falls to 2-1 with the loss.
UP NEXT
The series will also conclude on TV on the Pac-12 Network with a 3 p.m. PT first pitch Sunday.
The Sun Devils are on a five-game home run streak dating back to April 19. ASU has hit 26 multiple home run games this season, including a single-game high, six, against California in the series opener April 26.
Clint Myers is now 12-11 against California, 6-5 at home.
Copyright 2013 CBS 5 (Meredith Corporation). All rights reserved.