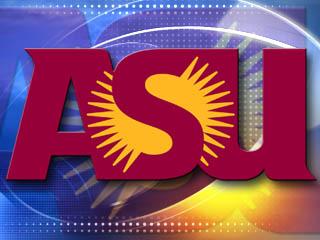 © cbs 5
PHOENIX (CBS5) -
Using three innings of perfect pitching by Mackenzie Popescue and a walk-off grand slam by Cheyenne Coyle, Arizona State softball tallied its fourth win of Pac-12 play, 5-1 over Oregon State. Sun Devil fans packed the stadium Friday night; the 2,142 in attendance marked the first sellout game of the season.
A tie 1-1 ballgame poised Cheyenne Coyle for a heroic at-bat in the bottom of the seventh. Coyle rose to the occasion and hit her second grand slam this year for the walk-off 5-1 victory.
The Sun Devils improve to 33-3 overall and 4-1 in Pac-12 action. Ace Mackenzie Popescue is now 15-0 overall, which was 18th nationally prior to the start of this series. Oregon State's relief pitcher Amanda Najdek drops to 1-1 while the team falls to 23-8 and 0-2 in Pac-12 with the loss.
Copyright 2013 CBS 5 (Meredith Corporation). All rights reserved.