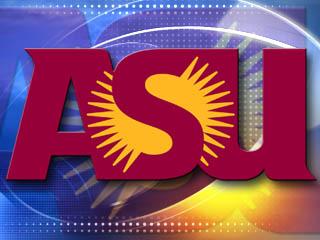 ? cbs 5
PHOENIX (CBS5) -
Arizona State softball (31-3, 2-1 Pac-12) went down to the wire against No. 12 UCLA (24-6, 1-2 Pac-12), holding on for a 5-4 win and the first Pac-12 Conference series of the season.
ASU won two of three games against the Bruins to capture the conference series in the opening weekend of Pac-12 action. The Sun Devils led 5-0 after the top of the fourth but UCLA rallied to make it 5-4 in the sixth. UCLA put ASU to the test in the bottom of the seventh with the winning run on base but Mackenzie Popescue and the defense thwarted the threat for the save in relief, 5-4.
Up Next:
The Sun Devils host Oregon State in the Pac-12 home opener starting March 28 at 7 p.m. ASU will play Saturday also at 7 p.m. and finish the series at 2 p.m. Sunday on the Pac-12 Network.
Copyright 2013 CBS 5 (Meredith Corporation). All rights reserved.