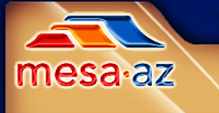 (Source: mesaaz.gov)
MESA, AZ (CBS5) -
An $800 million resort at the Mesa Proving Grounds will not be built, but the mayor of Mesa said it's not the end of the world.
Gaylord Entertainment decided to scrap the project and sell to Marriott by Oct. 1.
Mesa Mayor Scott Smith said it is not a deathblow to the master-planned Eastmark Development at Ellsworth Road near Elliot Road.
"The growth to the Phoenix-Mesa Gateway Airport and a lot of other development and businesses going on and the infrastructure going in, Gaylord wasn't the only driver anymore," Smith said.
Smith also said, "It was going to be the gateway to Gateway, the one that primed the pump. It's disappointing that they're not going to be part of Eastmark, but the area will be just fine without Gaylord."
Copyright 2012 CBS 5 (Meredith Corporation). All rights reserved.