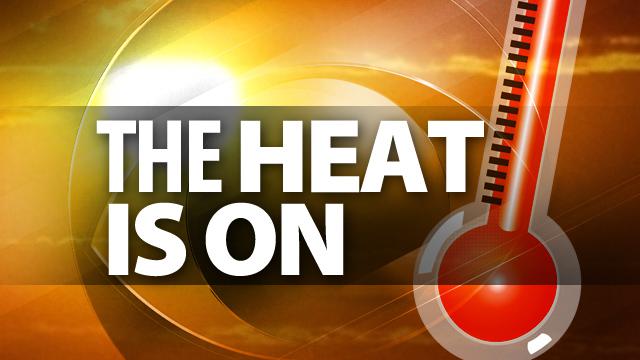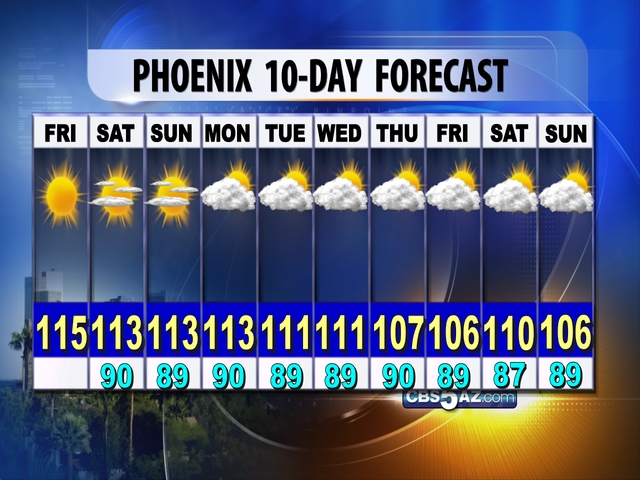 CBS 5 Meteorologist's 10 Day Forecast for Phoenix, as of Friday, Aug. 10.
PHOENIX (CBS5/AP) -
Wednesday was a record day for heat, and there is no letup in the near future.
The Phoenix record for the warmest low temperature for Aug. 8 was set Wednesday as the Valley "cooled" to 93 degrees, according to the National Weather Service. The record high for the day was also set, with 116 degrees Wednesday afternoon.
An excessive heat warning for the Valley was extended until Sunday evening by the NWS.
A heat warning is also in effect for the Colorado River communities through at least Friday evening due to the combined daytime highs between 110 and 115 degrees and warm overnight lows near 90 degrees.
Afternoon high temperatures in the Phoenix area will remain at or above 110 degrees through the weekend.
Environmental regulators issued a health advisory for high ozone for the Phoenix area through Saturday because of searing heat and easterly winds that cause a buildup of the pollutant.
The Arizona Department of Environmental Quality said Tuesday's ozone levels were some of the highest of the year. Air quality officials say they're expected to be high again Thursday.
Ozone is an invisible gas created when pollutants in the air, such as those created by engines, are heated by the sun. Experts say ozone can irritate the lungs and aggravate existing health conditions, such as asthma.
Copyright 2012 CBS 5 (Meredith Corporation). All rights reserved. The Associated Press contributed to this report.