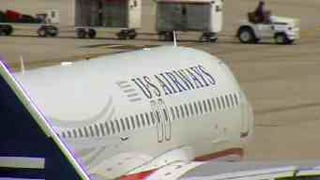 PHOENIX (CBS5) -
There's a lot of talk about a possible merger between Tempe-based US Airways and Fort Worth, Texas-based American Airlines. We already know if it happens, US Airways said it will move its headquarters from Tempe to Texas, and the new merged airline will keep the American Airlines name.
Now we know the airline will keep its hub at Phoenix Sky Harbor International Airport. Last week, Phoenix Mayor Greg Stanton and Tempe Mayor Mark Mitchell met with US Airways officials to discuss what will happen here in the Valley, if the merger goes through.
US Airways Chairman and CEO Doug Parker indicated a merger will actually make Phoenix a stronger hub, because the American aircraft fleet and route network will provide more access from Phoenix to destinations nationally and worldwide.
The airline is also open to discussing opportunities to bring more jobs here to the Valley, if a merger happens. The airline also agreed to continue its corporate giving program in Arizona.
"Phoenix and Tempe are currently home to US Airways, and we were glad to be reassured that US Airways remains committed to the Phoenix metro area," said Phoenix Mayor Greg Stanton.
"It is vitally important that we retain our hub status and as many jobs we have as possible, " said Tempe Mayor Mark Mitchell.
US Airways flies 265 flights per day from Sky Harbor International Airport and employs about 9,000 people here in the metro area.
Copyright 2012 CBS 5 (Meredith Corporation). All rights reserved.