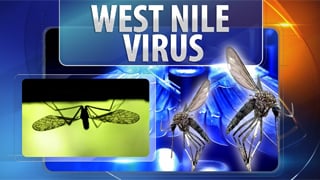 © CBS 5
PHOENIX (CBS5) -
An elderly man is the first reported death from the West Nile virus in Arizona this season, according to the Maricopa County Department of Public Health.
The man also had underlying health problems and was one of two reported cases of people infected with the virus so far, according to the department. The county health department did not say where he lived.
The virus can cause serious illness in humans and horses. Only 20 percent of those infected will develop flu-like symptoms, but some people such as the elderly may experience heightened symptoms, the department said.
The West Nile virus is transmitted through mosquito bites. County health officials are urging people to eliminate mosquito breeding grounds, such as standing pools of water in plant pots or other containers and ensuring pools are maintained properly.
"Especially after the monsoons like we had this weekend, we all need to do our part to get rid of standing water and curb mosquito breeding as best we can," said Dr. Bob England, director of Maricopa County Department of Public Health.
According to the department, the county experienced a mild virus season in 2011 with 45 confirmed cases and there have been more than 1,000 reported cases since the virus was first discovered in 2003.
Copyright 2012 CBS 5 (Meredith Corporation). All rights reserved.