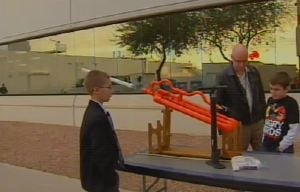 CHANDLER, AZ (CBS5) -
He's the Phoenix boy that has become famous for showing off his invention to President Obama.
Joey Hudy, 14, is an aspiring engineer. We recently helped him Pay It Forward to the man who helped him build his marshmallow cannon. Today Joey showed off his invention at the microchip technology open house in Chandler. Joey says he'll never forget the day the President went nuts over his marshmallow cannon.
"Previously, so many people over there told me not to encourage him to shoot it, so when he asked I wasn't 100% sure if I was allowed to," says Joey.
Joey says he got the idea for the cannon after tinkering with a mechanical pencil.
Copyright 2012 KPHO (Meredith Corporation). All rights reserved.