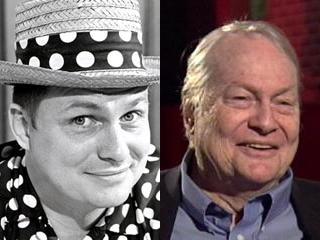 Hi! Wallace here.
I was recently pleased to find out that Lad, Pat, and I were to be included in the station history section of CBS 5 website.
We were always proud to be a part of Channel 5's program line-up.We did over 9,000 TV shows and 8,000 live stage shows from 1954 to 1989.
Thirty-six years of fun, laughter, twinkies, crackerjacks, and animal crackers!Lad gave away over 20,000 Ladmo Bags. Pat played over 150 different characters. We showed over 40,000 cartoons.
I hope you enjoy the Wallace 'n Ladmo part of the website!
Sincerely,
Bill Thompson, aka "Wallace"